WE ASK QUICK, CLARIFYING QUESTIONS TO NARROW YOUR SEARCH.  GETTING WHAT YOU NEED WITHOUT SPENDING MORE THAN YOU SHOULD.
WE MAKE OUTFITTING YOUR HARDWORKING TEAM EASY
Experience
More than 30 Years experience outfitting store employees
1000's of customers
We have thousands of happy customers
Relationships
We have relationships with many of the distributors and co-ops
HERE ARE SOME DIFFERENT APPROACHES WE TAKE
We've been clothing hardworking teams for more than 30 years, so we'll help you figure out just what you need without wasting your time.
When it comes to getting us your logo, we don't expect you to manage JPEGs and resolutions. Just send us what you've got — even if it's a snapshot of the shirt you're wearing — and we'll make it look great.   AND...we don't charge you any extra to do it, on average saving you hundreds of dollars.
Our team is printing your apparel ourselves in our own factory, so we can get it to you within about two weeks. Plus, shipping is always free on orders of 15 or more shirts.
Need something done faster, just ask and if we can fit it into the schedule we will do it!
We take a lot of steps to make sure you will get what you want.  With the option of getting a sample in your hands before you buy and a realistic mock-up before we print, you'll never wonder what will show up on your doorstep.
It's the little things that make a big difference in the success of your order, and our staff will guide you through the process quickly and easily.
We want to earn your trust and become your provider for the long-haul, so we offer competitive prices and honest guidance on uniforms and apparel that stand the test of time.
Plus, with no minimums , your reorders will flow smoothly and you can get just what you need without a penalty.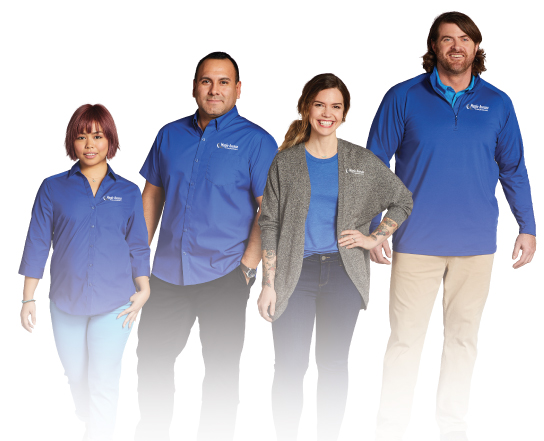 We Make It Incredibly Easy to Work With Us
We Know What works for you
30 Years experience in hardware & grocery
We'll work with what you got
your logo or idea - our artists can bring it to life
we get it to you quickly
about two weeks and shipping is free on orders of 15 or more